Home
> Commercial domiciliation >
Domiciliation of individuals
Domiciliation of individuals
Online domiciliation,
enjoy your virtual office!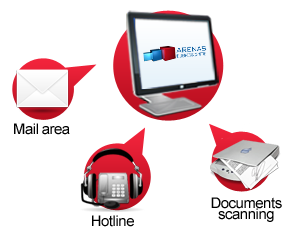 Free and unlimited access to a private area online
Access your mails 24/24
Skills in managing the daily administrative
Scanning documents
A team that fits your schedule and your needs
The domiciliation for individuals and expatriates

You live abroad but have an address in France?

You want to receive your mail to another address than your home?

You are often on the move and want peace of mind?

You do not have a fixed address for the moment, but look for a reliable address?



ARENAS PARTNERS offers you open your box mailing in its premises from €15 HT per month.

Of course you can request a close to redirect your mail or even the post, but are you that your mail will be processed in time and hour?



For convenience you, ARENAS PARTNERS has implemented two offers

- The free formula : we offer a service of box mailing without mail redirection. You are informed of the receipt of mail receipt thereof on our extranet and it is held at your disposal in our offices.

- Followed by the formula : in addition to the service of box mailing, we refer your mail twice a month to the address of your choice (in the limit of 50 messages per month and excluding postage). We sort for you advertising mail, so you receive that important mail.



Then hesitate more, choose the peace of mind!